Wood Atlas - Xylarium
Laurel Burl
lat. Laurelia sempervirens
---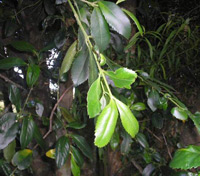 Chilean laurel (Laurelia sempervirens) occurs mainly in South America, especially Chile. It is an evergreen tree that can grow up to 100 feet tall. It is a major commodity in the Chilean timber industry, while its flowers, bark, and leaves are used medicinally.
The wood is medium-hard and rather lightweight and can be worked quite well. Unfortunately, there are always cracks in the grain that need to be filled.
---
Find the right wood by appearance! Our wood atlas makes it significantly easier to find the right wood for your projects. But, as you know, wood is a natural product and what us shown here is only a sample and the actual piece may vary in color and pattern. Tip: Use the left and right arrows to navigate; to select the wood currently show, click on the link below the image. The wood atlas is by no means exhaustive and is constantly being expanded. But, on the whole, almost all the woods we have in stock are shown.