Wood Atlas - Xylarium
Black Locust Burl
lat. Robinia pseudoacacia
---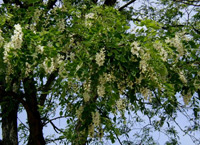 The black locust (Robinia pseudoacacia) is a native North American species which got its botanical name from Jean Robin, court gardener to French Kings Henry III, Henry IV, and Louis XIII, who introduced the species to Europe. The black locust can reach heights of up to 100 feet.
The wood is very hard, yet flexible, weather-resistant, and durable. It was once commonly used in shipbuilding and furniture making, as railroad ties, as supports for mine tunnels, and in bow making. The burl incredibly dense and textured and makes for a subtle eyecatcher.
---
Find the right wood by appearance! Our wood atlas makes it significantly easier to find the right wood for your projects. But, as you know, wood is a natural product and what us shown here is only a sample and the actual piece may vary in color and pattern. Tip: Use the left and right arrows to navigate; to select the wood currently show, click on the link below the image. The wood atlas is by no means exhaustive and is constantly being expanded. But, on the whole, almost all the woods we have in stock are shown.