Wood Atlas - Xylarium
Thuya Burl
lat. Tetraclinis articulata
Sandarak Tree
---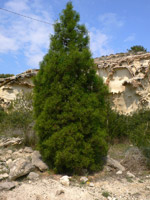 Thuya Burl / Sandarac tree (Tetraclinis articulata) is a coniferous cypress that occurs in particular in Morocco, Tunisia and northern Algeria, but it is also found scattered in southern Spain and Malta, where it is the national tree. It rarely reaches a height of 50 feet; more commonly, it grows to 20-25 feet with a diameter of about 15 inches.
The resin obtained by slicing into the wood is a precious source of incense and polishes. The knotted burls found in the root area are in high demand, especially in the veneer industry. The special thing about the burls is that they grow to a respectable size only after the death of the trunk. Finding the burls is no easy feat, given the lack of a trunk.
The wood is very fatty, which does not exactly make it easy to work and finish. The beauty of this wood and its beguiling scent while working it do make up for a lot of the bother.
---
Find the right wood by appearance! Our wood atlas makes it significantly easier to find the right wood for your projects. But, as you know, wood is a natural product and what us shown here is only a sample and the actual piece may vary in color and pattern. Tip: Use the left and right arrows to navigate; to select the wood currently show, click on the link below the image. The wood atlas is by no means exhaustive and is constantly being expanded. But, on the whole, almost all the woods we have in stock are shown.