Wood Atlas - Xylarium
European Smoketree
lat. Cotinus coggygria
---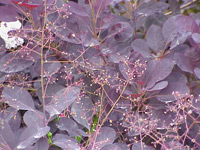 Der Perückenstrauch (Cotinus coggygria) ist in Mittel- und Südeuropa, Indien, Pakistan, Nepal und China heimisch. Er wächst meist als breitbuschiger Strauch mit Wuchshöhen von 3-5m. Dabei bildet er keine großen Stammdurchmesser aus, meist zwischen 10-15 cm. Das Holz enthält Bestandteile, welche schon seit Altersher zum färben verwendet wurden, deshalb ist auch der Name Färbersumach geläufig.
Das Holz ist hart, mittelschwer und zäh. Es zählt zu den einheimischen Exoten und besitzt eine außergewöhnliche quitschige gelb-grünliche Farbe, welche sehr Farbstabil ist.
---
Find the right wood by appearance! Our wood atlas makes it significantly easier to find the right wood for your projects. But, as you know, wood is a natural product and what us shown here is only a sample and the actual piece may vary in color and pattern. Tip: Use the left and right arrows to navigate; to select the wood currently show, click on the link below the image. The wood atlas is by no means exhaustive and is constantly being expanded. But, on the whole, almost all the woods we have in stock are shown.