Wood Atlas - Xylarium
Quilted Maple
lat. Acer saccharum
Hard Maple
---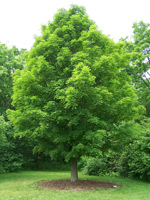 The quilted maple is not a separate species, but a derivative of the sugar maple (Acer saccharum). The gorgeous 3-D, quilted effect occurs only sporadically at the base of the sugar maple trunk. In connection with the brown lines of the early and late growth, this results in a very spectacular effect. This natural phenomenon is very rare and therefore very desirable and relatively expensive. The sugar maple grows in North America and can reach heights of 135 feet. The tree is the main source of maple syrup, of course.
The wood is dense and hard and is also called hard maple, rock maple, or sugar maple.
---
Find the right wood by appearance! Our wood atlas makes it significantly easier to find the right wood for your projects. But, as you know, wood is a natural product and what us shown here is only a sample and the actual piece may vary in color and pattern. Tip: Use the left and right arrows to navigate; to select the wood currently show, click on the link below the image. The wood atlas is by no means exhaustive and is constantly being expanded. But, on the whole, almost all the woods we have in stock are shown.