Wood Atlas - Xylarium
Laburnum
lat. Laburnum anagyroides
Colden Chain
---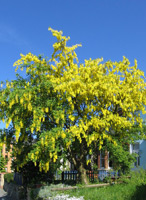 The laburnum (Laburnum anagyroides) has a distinctive look, known for its golden flowers from April to June. It mainly grows as a shrub or occasionally as a small tree with heights up to 20 feet. It is often planted as an ornamental plant across Europe and down to the Balkans.
The wood is hard, relatively heavy, but is easily worked. For your safety, you should wear a dust mask when working with it, but that should be a standard part of your kit whenever working with wood anyway.
---
Find the right wood by appearance! Our wood atlas makes it significantly easier to find the right wood for your projects. But, as you know, wood is a natural product and what us shown here is only a sample and the actual piece may vary in color and pattern. Tip: Use the left and right arrows to navigate; to select the wood currently show, click on the link below the image. The wood atlas is by no means exhaustive and is constantly being expanded. But, on the whole, almost all the woods we have in stock are shown.