Wood Atlas - Xylarium
Wenge
lat. Millettia laurentii
---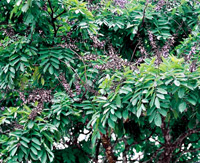 The wenge tree (Millettia laurentii) comes from the tropical rainforest of Africa, in particular from Congo, Cameroon, Gabon, and Equatorial Guinea. The tree reaches heights of about 50 feet.
The wood is hard, very heavy, and very resistant to weathering. It has a very dark brown to almost black color, but which will slightly fade under strong sunlight. It is used for furniture making, turning, and carving, and as hardwood flooring.
---
Find the right wood by appearance! Our wood atlas makes it significantly easier to find the right wood for your projects. But, as you know, wood is a natural product and what us shown here is only a sample and the actual piece may vary in color and pattern. Tip: Use the left and right arrows to navigate; to select the wood currently show, click on the link below the image. The wood atlas is by no means exhaustive and is constantly being expanded. But, on the whole, almost all the woods we have in stock are shown.