Wood Atlas - Xylarium
Linden Tree Burl
lat. Tilia
---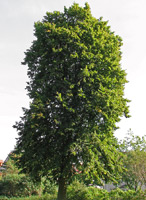 The large-leaved linden tree (Tilia platyphyllos), also named lime tree is native to Central and Southern Europe, often found lining boulevards. It can grow up to 135 feet tall with a trunk diameter of up to 6 feet. The lime tree plays a major role in the cultural history of Europe. In the pre-Christian Celtic and Germanic cultures, it was a place of judgment. The oldest tree of Germany is currently the dancing linden in Schenklengsfeld. It is estimated to be about 1,200 years old. Dancing linden trees are very common sites in village squares in Germany and have been the center of celebrations for centuries. The flowers and leaves have been used extensively in herbal medicine for centuries.
The wood is soft, lightweight, and with long fibers, making it ideal as a carving wood. It is also used sculpture and turning.
---
Find the right wood by appearance! Our wood atlas makes it significantly easier to find the right wood for your projects. But, as you know, wood is a natural product and what us shown here is only a sample and the actual piece may vary in color and pattern. Tip: Use the left and right arrows to navigate; to select the wood currently show, click on the link below the image. The wood atlas is by no means exhaustive and is constantly being expanded. But, on the whole, almost all the woods we have in stock are shown.