Wood Atlas - Xylarium
Lilacwood
lat. Syringa vulgaris
---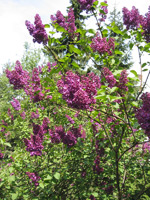 The common lilac (Syringa vulgaris) is a member of the olive family and is one of 20-25 lilac species worldwide. It often grows as a shrub or as a smaller tree growing to heights of 6 to 20 feet. The common lilac is widespread in southeastern Europe and Asia Minor. In 1560, Habsburg ambassador Ogier Ghislain de Busbecq brought the common lilac from Istanbul to Vienna. Since the end of the 16th century, it has been found in France and has later become common in the cottage gardens of Central Europe.
Lilac wood is somewhat problematic if not yet dry. It has an extreme tendency to crack, helped on by its frequently gnarled growth patterns. Once the wood is dry, it offers many advantages from significant hardness and density to its decorative color.
---
Find the right wood by appearance! Our wood atlas makes it significantly easier to find the right wood for your projects. But, as you know, wood is a natural product and what us shown here is only a sample and the actual piece may vary in color and pattern. Tip: Use the left and right arrows to navigate; to select the wood currently show, click on the link below the image. The wood atlas is by no means exhaustive and is constantly being expanded. But, on the whole, almost all the woods we have in stock are shown.