Wood Atlas - Xylarium
Oak Burl
lat. Quercus robur
---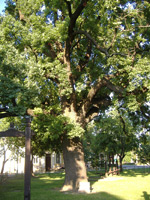 The Pedunculate Oak (Quercus robur) is the most common oak in Europe and can reach heights of 65 to 130 feet and a very stately age, usually 500 to 1,000 years, but sometimes as long as 1,500 years! In addition to the wood, the acorns have been eaten by pigs and deer since ancient times. The tannic acids in the bark have also been used to tan leather.
The wood is hard, heavy, tough, and very durable. It has many uses in furniture making, in wood turning, as a veneer, stairs, hardwood floors, and even piles for foundations and sleepers for rail lines. Burled oak is rather rare and is mainly used as a veneer.
---
Find the right wood by appearance! Our wood atlas makes it significantly easier to find the right wood for your projects. But, as you know, wood is a natural product and what us shown here is only a sample and the actual piece may vary in color and pattern. Tip: Use the left and right arrows to navigate; to select the wood currently show, click on the link below the image. The wood atlas is by no means exhaustive and is constantly being expanded. But, on the whole, almost all the woods we have in stock are shown.