Wood Atlas - Xylarium
Mountain Ash
lat. Sorbus aucuparia
European Rowan
---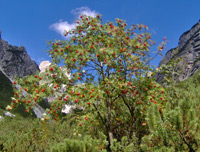 Despite its name, the mountain ash or rowan tree (Sorbus aucuparia) actually has nothing to do with ashwood. It can reach an age of 80 to 120 years and heights of 50 feet on average, only occasionally up to 80 feet. The superstition that the berries are poisonous stubbornly persists. However, the berries do contain parasorbic acid, which can cause stomach problems. But this can be mitigated by boiling, the resulting sorbic acid is well tolerated and the berries are used to make jams and liqueurs. The berries are very rich in vitamins even after being cooked and are therefore very healthy. Many are familiar with sorbitol, an artificial sweetener originally obtained from the sorbose of rowan berries. The berries are also used as natural remedies, for example as a tea for stomach problems, cough, or bronchitis.
The wood is hard, dense, and elastic. It is wonderful to work with and is therefore very popular for use in carving and turning.
---
Find the right wood by appearance! Our wood atlas makes it significantly easier to find the right wood for your projects. But, as you know, wood is a natural product and what us shown here is only a sample and the actual piece may vary in color and pattern. Tip: Use the left and right arrows to navigate; to select the wood currently show, click on the link below the image. The wood atlas is by no means exhaustive and is constantly being expanded. But, on the whole, almost all the woods we have in stock are shown.