Wood Atlas - Xylarium
Maple Burl
lat. Acer campestre
---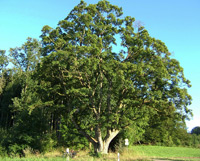 The field maple (Acer campestre) forms sporadic burls at the base of the trunk or in the root area which can range from rather simple to extremely wild in appearance. The field maple grows in all of Europe and the Caucasus. It can reach a height of 65 feet and can live for up to 200 years. The wood is hard and dense and is used in furniture, making musical instruments, and turning.
The burl wood of the field maple is lighter and is mainly used as a veneer and fine crafts.
---
Find the right wood by appearance! Our wood atlas makes it significantly easier to find the right wood for your projects. But, as you know, wood is a natural product and what us shown here is only a sample and the actual piece may vary in color and pattern. Tip: Use the left and right arrows to navigate; to select the wood currently show, click on the link below the image. The wood atlas is by no means exhaustive and is constantly being expanded. But, on the whole, almost all the woods we have in stock are shown.