Wood Atlas - Xylarium
Royal white Ebony
lat. Diospyros malabarica
Black-white Ebony
---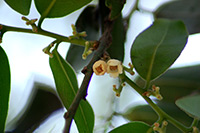 Black-and-white ebony (Diospyros malabarica) is a very rare member of the ebony family. It is a real ebony and it is primarily found in Laos, Burma, and Sri Lanka. The tree grows up to 50-120 feet tall with a diameter of about 2 feet. It is also sometimes marketed as "Royal White Ebony." It has a very strong tendency to crack and warp. Once it is dry, however, it is extremely dimensionally stable. It has since become a true rarity. Only very small quantities are currently being moved in the precious wood trade and only at fabulous prices for pieces with just okay graining.
The wood is very hard, very heavy, and very dense. Due to its unique look and technical nature, it is highly sought after and suitable for crafts of any kind, such as knife making, turning, or furniture-making.
---
Find the right wood by appearance! Our wood atlas makes it significantly easier to find the right wood for your projects. But, as you know, wood is a natural product and what us shown here is only a sample and the actual piece may vary in color and pattern. Tip: Use the left and right arrows to navigate; to select the wood currently show, click on the link below the image. The wood atlas is by no means exhaustive and is constantly being expanded. But, on the whole, almost all the woods we have in stock are shown.