Wood Atlas - Xylarium
Curly Maple
lat. Acer pseudoplatanus
---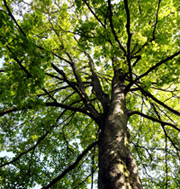 The sycamore maple (Acer pseudoplatanus) is a deciduous tree in the maple family. When this species grows in a special pattern, it produces a fantastically decorative 3-D grain alternatively called curly, fiddleback, or flame maple, which is primarily prized among makers of musical instrument because of the excellent sound quality it produces. The sycamore maple can grow as high as 100 feet with a stately age of 500 years. It is especially at home in hilly landscapes between 1,500 and 5,000 feet above sea level and is native to Europe and western Asia.
The wood is hard, dense, and excellent to work with.
---
Find the right wood by appearance! Our wood atlas makes it significantly easier to find the right wood for your projects. But, as you know, wood is a natural product and what us shown here is only a sample and the actual piece may vary in color and pattern. Tip: Use the left and right arrows to navigate; to select the wood currently show, click on the link below the image. The wood atlas is by no means exhaustive and is constantly being expanded. But, on the whole, almost all the woods we have in stock are shown.