Wood Atlas - Xylarium
Whitebeam
lat. Sorbus aria
---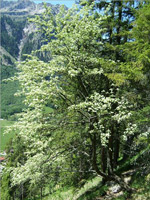 The whitebeam (Sorbus aria) is found throughout Western Europe. It grows as a shrub or small tree with heights ranging form 10 to 40 feet. The scarlet berries which ripen in August were previously used a substitute for flour, but only after being roasted, dried, and ground.
The wood of the whitebeam is tough and moderately heavy. It is suitable for fine crafts of any kind as well as for carpentry work.
---
Find the right wood by appearance! Our wood atlas makes it significantly easier to find the right wood for your projects. But, as you know, wood is a natural product and what us shown here is only a sample and the actual piece may vary in color and pattern. Tip: Use the left and right arrows to navigate; to select the wood currently show, click on the link below the image. The wood atlas is by no means exhaustive and is constantly being expanded. But, on the whole, almost all the woods we have in stock are shown.