Wood Atlas - Xylarium
Yellow Box
lat. Eucalyptus melliodora
Goldfield, Eucalyptus
---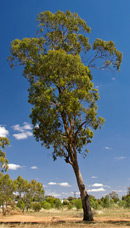 Yellow boxwood (Eucalyptus melliodora) is a member of the large eucalyptus family in Australia and is found mainly in the south-eastern region from western Victoria to New South Wales and up to Queensland. The tree reaches heights of about 50 to 100 feet.
The wood is very dense, hard, and extremely resistant to pests. It is also resistant to environmental influences, making it a popular choice railway sleepers or fences. Using this beautiful burl for that purpose, though, would indeed be a shame.
---
Find the right wood by appearance! Our wood atlas makes it significantly easier to find the right wood for your projects. But, as you know, wood is a natural product and what us shown here is only a sample and the actual piece may vary in color and pattern. Tip: Use the left and right arrows to navigate; to select the wood currently show, click on the link below the image. The wood atlas is by no means exhaustive and is constantly being expanded. But, on the whole, almost all the woods we have in stock are shown.